Collaborative Divorce, Brooklyn & Manhattan
Collaborative Divorce is a new and highly structured process in which divorcing couples, committed to staying out of court, settle the terms of their divorce with professional legal, financial and emotional support.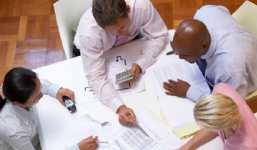 How a Collaborative Divorce works
You and your spouse each retain your own collaborative divorce attorney who helps you identify your goals and aspirations, which then guide the negotiations.
Your collaborative attorney advises, advocates and negotiates solely on your behalf and supports, protects and guides you throughout this process.
Both your and your spouse's collaborative attorneys work together as a team to help the two of you reach a balanced and mutually acceptable agreement. You and your spouse may elect to bring in other experts and professionals to support and guide you to sort out the complex legal, financial, emotional and parenting issues.
Settlement negotiations take place in a series of meetings between you, your spouse and members of your professional team. Every issue is on the table including issues regarding property division, parenting plans, support or any other matters that arise.
You, your spouse and each professional team member sign a pledge to work in the collaborative divorce process. If either of you seek court intervention, it is the collaborative attorney's obligation to refer you to litigating attorneys. This pledge supports your and your spouse's decision to stay out of court, even if negotiations become difficult.
How to determine if a Collaborative Divorce is right for you:
Divorce is a sensitive and personal matter. No single approach is right for everyone. Many couples do find the no-court process of Collaborative Divorce a welcome alternative to the often destructive, uncomfortable aspects of a litigated divorce. Collaborative Divorce can be effective even when there is a lot of conflict, anger, hostility and/or imbalances of power between spouses.
If the following values are important to you, the Collaborative Divorce process may be what you're looking for:
• I want to minimize the negative economic, social and emotional impact of divorce on all my family members.
• I want to maintain a tone of respect, even when we disagree.
• I want to honor the needs of our children, and protect them from the harm that a court battle inflicts.
• My needs and those of my spouse require equal consideration, and I will listen objectively.
• I believe that working creatively and cooperatively solves issues.
• It is important to me to reach beyond today's frustration and pain to plan for the future.
• I see the need to disclose full and accurate information about financial issues.
• I want to dissolve my marriage with dignity and without regrets.
Does this path feel comfortable to you?
If you have questions or would like to schedule a consultation in my Park Slope, Brooklyn or downtown Manhattan office, call 917-969-6416 or click here to email me.
As your collaborative divorce attorney, I will listen carefully and compassionately to your story, and advocate on your sole behalf based on what you tell me is important to you. I facilitate productive, non-confrontational negotiations in an open and fair manner, so that all of your needs, fears and concerns are addressed in a dignified and safe environment that reduces the impact of conflict on you and your family.
Collaborative Law for Family Conflict
Collaborative Law can be used in all family law cases including divorce, legal separation, non-marital couple separation, custody issues, parentage actions, child support and many other issues which directly impact families and family structures.